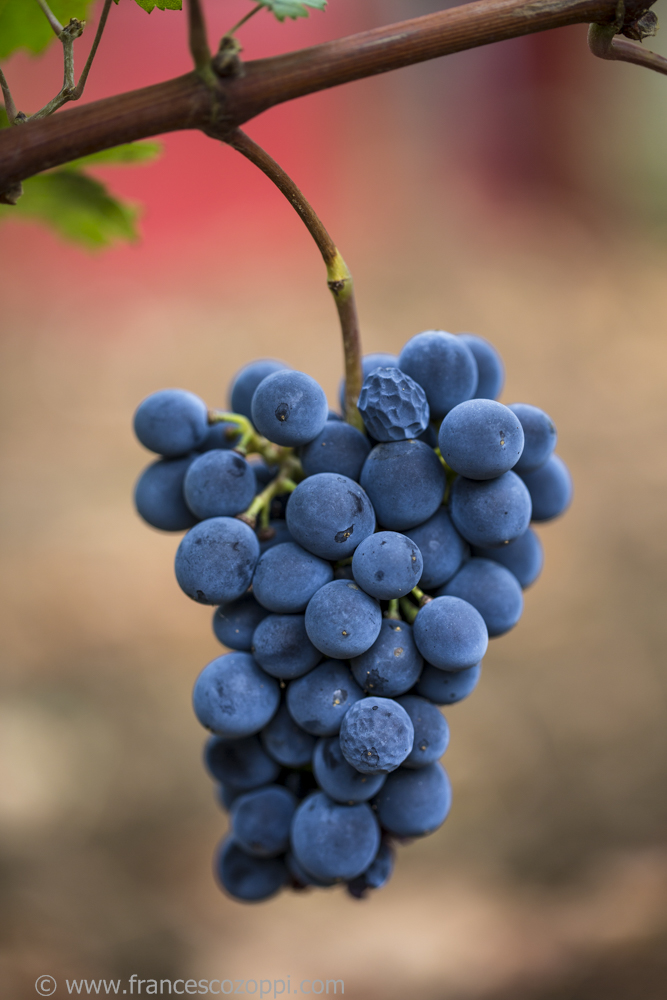 Barbera grape
Barbera is a dark-skinned wine grape variety found in several Italian wine regions, including its native Piedmont, Emilia-Romagna, Puglia, Campania and even the island regions, Sicily and Sardinia. At the turn of the 21st Century, it was Italy's third most-commonly planted red wine grape, after Sangiovese and Montepulciano. Barbera grapes are used both in blended wines and varietals – the latter are becoming increasingly common as Italy continues its move towards varietal labeling.
Barbera (like so many Italian wine grape varieties) has ancient origins, although it has only been traceably documented since the 17th Century. It was first cited in an official document in 1798, by Count Giuseppe Nuvolone-Pergamo of Scandaluzzo, deputy director of the Società Agraria di Torino (Agrarian Society of Turin). The count is credited with creating the first definitive list of Piedmont's wine grape varieties. Barbera-based wines were well regarded even then, for their rustic-yet-generous character. They were a favorite among Savoyard army officers, who considered the wine a "sincere companion", which helped them maintain their courage in battle.
The variety has traveled widely in the past two centuries, landing in Australia, Argentina and California, most likely following Italian migration patterns. It has this in common with Nebbiolo, although Barbera has adapted much more readily to these new environments than its fussy Piedmontese cousin, and is now responsible for wines of high quality in each of these countries. As with Nebbiolo, there is considerable debate over how Barbera is best treated; traditionalists favor longer maceration and less oak, while modernists champion rounder, more approachable styles softened by barrel maturation.
Barbera is the third most widely planted red grape variety in Italy though it is most common in the Asti and Alba regions. Barbera grapes produce rich, red wines with strong fruit flavors and aromas, especially black cherry. Other characteristics of wines made with Barbera grapes include low, mild tannins and high acidity which produces a crisp taste.
Barbera wines are traditionally aged in large casks which impart little oak flavor, but some today are aged in small French oak barrels, leading to strong oak flavors. Aging in smaller casks also imparts more tannins to the Barbera wines. (http://wine-tasting-reviews.com; http://www.wine-searcher.com)
Barbera Wine Profile
FRUIT: Dark Cherry, Dried Strawberry, Plum, Blackberry
OTHER: Violet, Lavender, Dried Leaves, Incense, Vanilla, Nutmeg, Anise
OAK: Yes. Large neutral oak casks.
TANNIN: Low
ACIDITY: High
AGEABILITY: Traditionally enjoyed within 2-4 years.
SYNONYMS & REGIONAL NAMES:
Barbare, Barbera d'Alba, Barbera d'Aosta, Barbera Sarda, Barbera d'Asti, Barbera del Monferrato